On my way to winning the Largs congress this past weekend, I twice faced the Chigorin Defence against the Queen's Gambit. I haven't faced this too often, but I could remember the basics of Avrukh's repertoire in Grandmaster Repertoire 1.
1.d4 d5 2.c4 Nc6 3.Nc3 dxc4
In the first round my opponent played rather passively with: 3…Nf6 4.Nf3 e6?! (4…dxc4 transposes to Greet – Wynarczyk) 5.Bg5 Be7 6.e3 White has a comfortable version of a QGD, as the knight on c6 is misplaced. 6…h6 7.Bf4!? (7.Bh4) 7…Bd6 8.c5N This logical move is a novelty, although it soon transposes to another game. (8.Bxd6 Qxd6 9.c5 Qe7 10.Bb5 Bd7 didn't seem too bad for Black.) 8…Bxf4 9.exf4 The doubled pawns are not weak, and the f4-pawn helps to clamp down on the centre. 9…Ne4 10.Qc2 f5? A positional blunder. (10…Nxc3 11.Qxc3 leaves White with a pleasant space advantage and the better bishop, but Black is solid.) 11.Bb5 Bd7 12.Bxc6 Bxc6 13.Ne5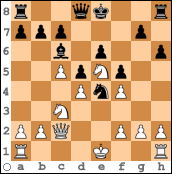 White is already strategically winning. 13…0–0 14.f3 Nxc3 (14…Qh4+? 15.g3 Nxg3 16.Qf2+–; 14…Nf6 15.b4 White dominates the entire board.) 15.Qxc3 Be8 16.0–0 g5 17.Qd2 Kh7 18.Kf2 Rg8 19.g3 gxf4 20.Qxf4 Qg5 21.Qxg5 hxg5 22.h4 g4 23.fxg4 fxg4 24.Ke3 Bg6 25.Nxg4 Kg7 26.Ne5 Raf8 27.g4 b6 28.c6 a5 29.Nd7 Rxf1 30.Rxf1 Be8 31.Ne5 b5 32.h5 Kh7 33.Rf6 1–0 Greet – Parks, Largs 2014.
4.Nf3 Nf6 5.Bg5
Avrukh's recommendation. White makes a useful developing move before taking action in the centre.
After the game my opponent said he knew what to do against 5.d5 and 5.e4, but that he had not encountered the bishop move.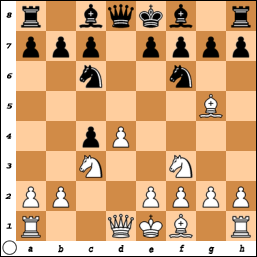 5…Bg4?!
Black immediately goes wrong, but it is easily done, as this is a standard move in the Chigorin.
5…h6 6.Bh4 (Schandorff recommends 6.Bxf6) 6…a6 is the main line, with the point that after 7.e4 Bg4 8.d5 the black knight can go to e5. I couldn't remember much more of Avrukh's coverage, other than the fact that White continues with Be2 and takes back on f3 with the g-pawn. I reckon this is about as much theory as you need to know, unless you are facing a real specialist.