I like to keep an eye on how our various opening repertoires are performing over the board. When seeing a new game in the database, there will be comments in the office such as "That's in Avrukh" or "I edited this line – it's in Petrov." The following recent game from the Tradewise Gibraltar Masters is both Avrukh and Petrov.
Re. Schaefer (2104) – M. Muzychuk (2520)
Gibraltar Masters 27.01.2015
1.d4 Nf6 2.c4 e6
A move order favoured by some Benoni fans.
3.g3
After 3.Nc3 Black might well prefer 3…Bb4 rather than a Benoni.
3…c5
With White committed to a kingside fianchetto, the Benoni is a more attractive option to some.
4.d5 exd5 5.cxd5 d6 6.Nc3 g6 7.Bg2 Bg7 8.Nf3 0–0 9.0–0 Re8
9…a6 10 a4 is an equally common move order.
10.Nd2 a6 11.a4
Back in the main line.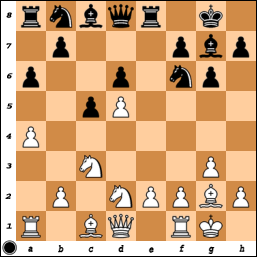 11…Nbd7 12.h3 Rb8 13.Nc4 Ne5 14.Na3 Nh5 15.e4 Bd7 16.a5 b5 17.axb6 Bb5 18.Naxb5 axb5 19.Nxb5 Qxb6 20.Na3 Qb3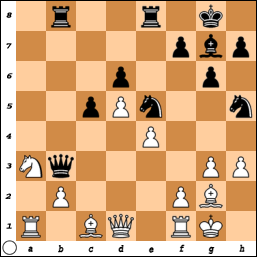 This is all following the main line of the main line of the main line of Marian Petrov's answer to the Fianchetto System. It is variation B332322 on page 244 of GM Repertoire 12 – The Modern Benoni for those who have the book. It is also where Petrov meets Avrukh's GM Repertoire 2. I would bet Boris will choose something different next time.