The Modern Tiger
Here's a snippet from The Modern Tiger, which will be available soon. The position is taken from the new chapter covering the Pirc as a back-up weapon against the Austrian. The following position is reached in analysis. Can you find a strong continuation for Black?
Tiger's notes are reproduced below:
16…Bxh3!! 17.gxh3 Nf4
White's defence is difficult. A possible continuation is:
18.Qb5
Vigus shows that 18.Qc4†?! Kh8! is excellent for Black. One possibility is 19.Rae1 Qd7 with a massive attack.
18…Kg7!
Since the c7-pawn is not under threat here, it seems better to keep the f6-pawn covered while avoiding any potential checks on the back rank.
19.Bc4
19.Rae1 Qc8! 20.Bd1 Nxh3† 21.Kh1 Be3 22.Bxe3 Nxe3 is at least a bit better for Black.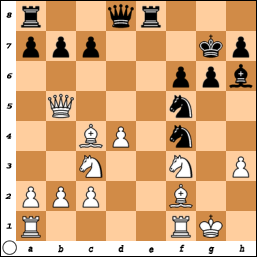 19…Qc8 20.Qc5 b6! 21.Qc6 Ne7 22.Qe4 Ned5 23.Ne5 Nxc3 24.bxc3 fxe5
Black is clearly better.