Here's another preview of Grandmaster Repertoire 16 by Emanuel Berg, which is published today. It consists of a few lines I pulled from different parts of the relevant chapter, so this should not be considered an excerpt from the book, which is a lot more detailed.
I decided to show you a glimpse of Emanuel's recommendation against the King's Indian Attack, which is always popular at club level. I have focused on a couple of lines involving the author's own games. Throughout the book and indeed most of the series, he has recommended lines that he himself plays, and this chapter is no exception.
1.e4 e6 2.d3 d5 3.Nd2 c5 4.Ngf3
4.g3 is an alternative move order, with which White may try to avoid Black's recommended system. The point is that, after 4…Nc6 5.Bg2, Black is unable to develop the bishop on d6 due to the hanging d5-pawn.
Therefore Emanuel prefers 4…Bd6, when 5.Bg2 Ne7 6.Ngf3 Nbc6 reaches the desired set-up. 5.Qg4!? is an interesting way to deviate, but Emanuel looked at it carefully and found an improvement for Black, which will be revealed in the book.
4…Nc6 5.g3 Bd6 6.Bg2 Nge7 7.0–0 0–0 8.Re1 Qc7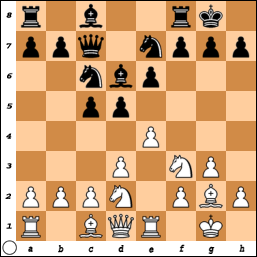 This set-up a great practical choice against the KIA. Black prevents the standard plan of e4-e5, and seeks to gain space. If White is not careful, he may easily find himself in a passive position resembling a reversed King's Indian Defence gone wrong.