The Soviet Chess Primer
In The Soviet Chess Primer, by Ilya Maizelis, to be published on 10 December, the chapter on Combination includes a selection of little-known examples from Alekhine. You can test yourself on the following – White to play and win:
Alekhine – Amateur, Groningen (simul) 1933
White achieved victory in the sole possible way, which is extremely subtle:
1.g4!!
The black rook cannot stop the a-pawn.
1…Re4 2.a5 Rxg4 3.a6 Rh4
If 3…Rg1, then 4.a7 Ra1 5.Ra3!! bxa3 6.a8=Q axb2 7.Qb7+ and 8.Qxb2 winning.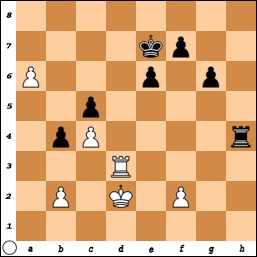 4.Rd8!! Kxd8 5.a7
Black resigned. An endgame study in a practical game!
1–0