Three moments in the World Championship match that really mattered
Not surprisingly Magnus Carlsen defended his World Championship title. Apparently he was ill during a good deal of the match, but it still seems that he won without truly breaking sweat.
In my opinion both players had the same problem in this match. Carlsen did not truly believe that Anand was a threat and thus struggled to keep up motivation. Anand also did not think that he was a threat and for this reason he did not present one when he had the chance. In this way the match never really got as exciting to me as it could have.
In this article I want to present three moments where Anand performed worse than he could have.
Carlsen – Anand, Sochi (2) 09.11.2014
1.e4 e5 2.Nf3 Nc6 3.Bb5 Nf6 4.d3 Bc5 5.0–0 d6 6.Re1 0–0 7.Bxc6 bxc6 8.h3 Re8 9.Nbd2 Nd7 10.Nc4 Bb6 11.a4 a5 12.Nxb6 cxb6 13.d4 Qc7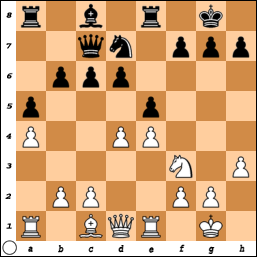 After achieving nothing from the opening Carlsen now sets up an attack on the kingside. It really should not be too difficult to deal with, but Anand loses without a fight.
14.Ra3 Nf8 15.dxe5 dxe5 16.Nh4 Rd8
I doubt whether this improves Black's position.
17.Qh5 f6 18.Nf5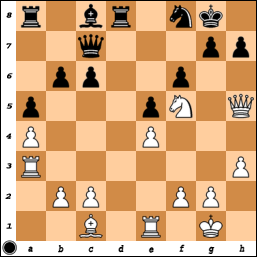 A very important moment in the game. Anand played his next move quickly and never really recovered. As it is pretty obvious what White is trying to do, it would have made sense if he had a deep think here and decided how to deal with the attack.
18…Be6? 19.Rg3 Ng6 20.h4!
20.Bh6! was also unpleasant.
20…Bxf5?
Showing inconsistency with putting the bishop on e6. All of White's moves were predictable. 20…Rd7 was better it seems, though I like White.
21.exf5 Nf4 22.Bxf4 exf4 23.Rc3! c5 24.Re6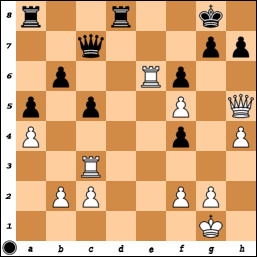 We have reached a technical position with a big advantage for Carlsen. The rest was predictable.
24…Rab8 25.Rc4 Qd7 26.Kh2 Rf8 27.Rce4 Rb7 28.Qe2 b5 29.b3 bxa4 30.bxa4 Rb4 31.Re7 Qd6 32.Qf3 Rxe4 33.Qxe4 f3+ 34.g3 h5 35.Qb7
1–0
The two other moments were times where he failed to put Carlsen under pressure.
Anand – Carlsen, Sochi (5) 14.11.2014
1.d4 Nf6 2.c4 e6 3.Nf3 b6 4.g3 Bb4+ 5.Bd2 Be7 6.Nc3 Bb7 7.Bg2 c6 8.e4 d5 9.exd5 cxd5 10.Ne5 0–0 11.0–0 Nc6 12.cxd5 Nxe5 13.d6 Nc6 14.dxe7 Qxe7 15.Bg5 h6 16.d5 Na5 17.Bxf6 Qxf6 18.dxe6 Qxe6 19.Re1 Qf6 20.Nd5 Bxd5 21.Bxd5 Rad8 22.Qf3 Qxb2 23.Rad1 Qf6 24.Qxf6 gxf6 25.Re7 Kg7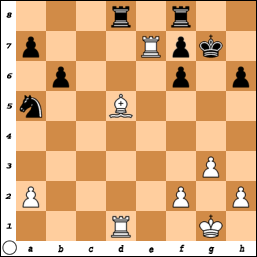 White had a good position from the opening and Carlsen has clearly messed up a bit, as 23…Qf6 testifies to. If you saw the press conference after the game, you would know that Anand did see that 26.Rc7 and 26.Kg2 were the dangerous options for Black. He showed them unprompted. Instead he went directly for the draw.
In the last match he lost some equal endings. But to have so little self-confidence that you do not play the best move and put the opponent under pressure, is a poor strategy. It means that Anand was hoping that he would be able to catch Carlsen in the opening once again and win the match without having to actually beat him at any point.
26.Rxa7 Nc6 27.Rb7 Nb4 28.Bb3 Rxd1+ 29.Bxd1 Nxa2 30.Rxb6 Nc3 31.Bf3 f5 32.Kg2 Rd8 33.Rc6 Ne4 34.Bxe4 fxe4 35.Rc4 f5 36.g4 Rd2 37.gxf5 e3 38.Re4 Rxf2+ 39.Kg3 Rxf5
½–½
Anand – Carlsen, Sochi (10) 21.11.2014
1.d4 Nf6 2.c4 g6 3.Nc3 d5 4.Nf3 Bg7 5.Qb3 dxc4 6.Qxc4 0–0 7.e4 Na6 8.Be2 c5 9.d5 e6 10.0–0 exd5 11.exd5 Re8 12.Bg5 h6 13.Be3 Bf5 14.Rad1 Ne4 15.Nxe4 Bxe4 16.Qc1 Qf6 17.Bxh6 Qxb2 18.Qxb2 Bxb2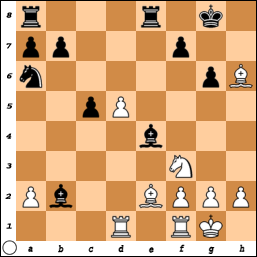 19.Ng5! Bd4!
19…Bxd5 20.Bxa6 and White wins a piece.
19…Bf5 20.Bb5 Red8 21.d6 Bd4 22.Bc4 and White wins. For example: 22…Rd7 23.Rfe1 and there is no defence against Re7.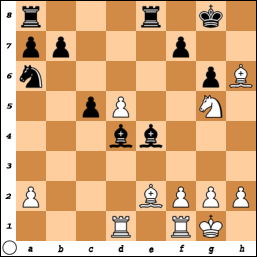 This is the moment in the game where Anand missed his last chance to equalise in the match. White is not winning, but he can create very real chances if he reacts correctly.
In the game he chose to play for a safe slight advantage, which achieved more or less nothing.
20.Nxe4?!
If Anand has to beat Carlsen he has to unbalance the position. For this reason it was important that he win the exchange in this position, even though Black has a lot of compensation. Jan Gustafsson at first believed the computer, when it declared the position as equal. It is not. He later correctly stated that there is += many places. I agree. It just needed to be in a position that did not suit Carlsen and where White already had something real going for him; as for example an extra exchange!
20.Bb5! Bxd5 (20…Re5 21.Rfe1 and White wins something soon. For example 21…Bc2 22.Rxe5 Bxe5 23.Re1 Bd6 24.Be8! f6 25.Bf7+ Kh8 26.Re6 Be5 27.Re7 and so on.) 21.Bxe8 Rxe8 22.Rfe1 Rc8 The line Jan tweeted about was 22…Nc7? 23.Rxe8+ Nxe8 24.Nf3 Bxf3 25.gxf3. Playing blitz against the computer, I quickly reached the following position: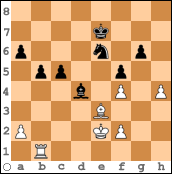 White is close to winning after something like a2-a4!? or in a few other ways…
Black of course needs to retain a rook in order to have active play. This is very often the case and also here. Computers do not know this, but many humans do.
Svidler suggested 22…Rc8!, before quickly moving on to the game, which developed in a different direction.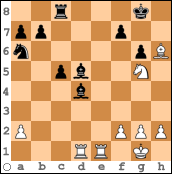 Here White has a number of interesting options. More analysis is needed to determine if one of them is clearly to be preferred.
23.h4!? is the favourite of Stockfish at depth 39. White has the advantage after something like 23…Bxa2 24.Re7 Nc7 25.Rde1 Be6 26.Nxe6 Nxe6 27.Rxb7 and the game goes on.
23.Nf3 Bxf3 24.gxf3 Nc7 25.Re7 Bf6 26.Red7 c4 27.Be3 c3 28.Kf1 a5 29.Ke2 b5 30.Rg1 with some chances. Again White is playing for two results.
20…Rxe4 21.Bf3 Re7 22.d6 Rd7 23.Bf4 Nb4 24.Rd2 Re8 25.Rc1 Re6 26.h4 Be5 27.Bxe5 Rxe5 28.Bxb7
It was argued that White should play on with a slight pull and harass Carlsen. To be honest, I do not think that this had a chance in the World to succeed.
28…Rxb7 29.d7 Nc6 30.d8Q+ Nxd8 31.Rxd8+ Kg7 32.Rd2
½–½
I do not seriously claim that Anand could have won the match if he had done these things. But we might be headed for Game 12 with a continuing chance tomorrow if he had done! Remember that the exchange sacrifice yesterday was born out of a need to win more than an objective evaluation.
Overall the match went a lot like I expected it to. I did not believe that Anand would hold simple positions where he was worse and I did not believe that he would be able to put serious pressure on Carlsen. I was closer on being wrong to the second part of this belief than I like, but this is what prediction is all about – saying what you really think. The same goes for an analysis. I could say something bland; instead I have here given my opinion of the match, which is maybe a bit controversial with regards to Game 10. But hopefully not dull!