In the recent 4NCL I had the honour of playing first board for Wood Green with Black in two games. As I am entirely out of shape and blunder in more or less every rare game I play, my goal was to make draws, eliminate their best players and hope that the team would win on the other boards. This all went to plan and I gladly donated 1-2 rating points to the well-being of the team. Besides, I hope I will be allowed three white games in the final weekend!
My game on the Saturday was quite interesting at one moment, just after I blundered (always happens!) and I had to decide how best to deal with the defence. I think my considerations at the board were quite interesting and worth a minor discussion.
James Cobb – Jacob Aagaard
1.Nf3 Nf6 2.c4 c6 3.Nc3 d5 4.e3 e6 5.b3 Bd6 6.Bb2 Nbd7 7.d4 0–0 8.Be2 Re8 9.0–0 Qe7 10.Qc2 dxc4 11.Bxc4
11.bxc4 e5 12.Nh4 Nf8 13.Nf5 Bxf5 14.Qxf5 exd4 15.exd4 Ne6 looks OK for Black. During the game I was slightly less sure, but I was going to play this way and that is what counts.
11…h6 12.Ne4 Nxe4 13.Qxe4 e5 14.dxe5 Nxe5 15.Nxe5 Bxe5 16.Qxe5 Qxe5 17.Bxe5 Rxe5 18.Rfd1 Kf8 19.Rd8+ Re8 20.Rad1 a5 21.a4 Rb8 22.R8d4 b5 23.axb5 cxb5 24.Bd5 Rd8 25.Kf1 Ke7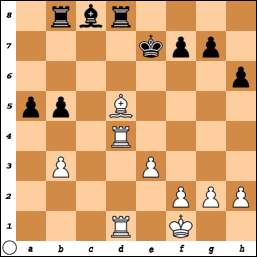 This is my blunder. I really had no clue that this was coming. As usual when this happens, I smiled. Life has lots of surprises for us; not all will be positive.