Nuking the Najdorf with Negi
Anton Visser – Anthony Waller
Correspondence, 2015-16
We always enjoy hearing success stories from our readers. One such message came in last week from Anton Visser, who tested Parimarjan Negi's repertoire against the Najdorf in a correspondence game. Anton's verdict on Negi's analysis is that it was "better than the computer my opponent used." Here is the game:
1.e4 c5 2.Nf3 d6 3.d4 cxd4 4.Nxd4 Nf6 5.Nc3 a6 6.Bg5 e6 7.f4 Qb6 8.Qd2 Qxb2 9.Rb1 Qa3 10.e5 dxe5 11.fxe5 Nfd7 12.Ne4 h6 13.Bh4 Qxa2 14.Rd1 Qd5 15.Qe3 Qxe5 16.Be2 Bc5 17.Bg3 Bxd4 18.Rxd4 Qa5+ 19.Rd2 0–0 20.Bd6 Rd8
We are deep into one of the crazy main lines of the Poisoned Pawn. Parimarjan (or "Pari", as we call him) analyses it in Chapter 15 of 1.e4 vs the Sicilian I.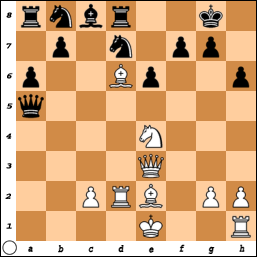 21.g4!!
Pari describes in the book how he discovered this move in 2006, and was able to introduce it as a novelty four years later. White throws his entire army into the kingside attack.
21…Nc6 22.g5 hxg5 23.Rg1 Nf6
23…f6 is Negi's main line, but of course he analyses the text move as well.
24.Rxg5 Qa1+ 25.Rd1
Now Black must give up his queen but he gets more than enough material for it, so everything depends on White's attack.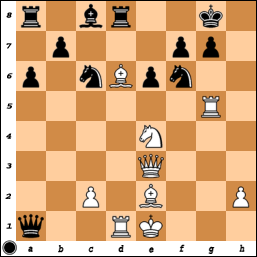 25…Qxd1+ 26.Kxd1!
26.Bxd1 led to an eventual victory for our hero in the original game, Negi – Huschenbeth, Chotowa 2010, but he gives the text move as the most precise continuation in the book.
26…Nxe4 27.Qxe4 Rxd6+ 28.Kc1
Black has a rook, knight and three pawns for the queen, but he struggles to hold his kingside together. This is one of the countless examples in the 1.e4 books where the engine rates everything as 0.00, but Pari has correctly judged that Black has real problems.
28…e5
There was one previous game in this line, where Black was crushed: 28…Nd4 29.Bh5 Nf5 30.Qe5 Rd7 31.Bg4 Rd5 32.Qf6 Kf8 33.Qc3 g6 34.Bf3 Rb5 35.h4' (Pari cuts off the line at this point) 35…e5 36.Qc7 Be6 37.Bxb7 Re8 38.Bxa6 Rd5 39.h5 Re7 40.Qb8+ 1–0 Ulbig – Fortune, corr. 2013.
29.h4
Pari notes on page 280 that White has a strong attack here – and indeed, Black's kingside soon falls apart on the game.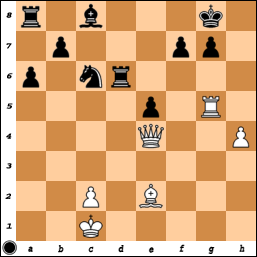 29…Kf8 30.Qh7 Ke7 31.Rxg7 Be6 32.Bg4 Rf8
Black has avoided being mated in the short term, but he is unable to cope with the passed h-pawn. The rest is relatively easy, especially at correspondence level.
33.h5 Bxg4 34.Rxg4 Rf6 35.Qg7 Nd4 36.Re4 Nc6 37.Re1 Rd8 38.Rh1 Nd4 39.Qg5 Rd5 40.h6 Ne2+ 41.Kb2 Rb5+ 42.Ka3 Ra5+ 43.Kb4 Rb5+ 44.Ka4 Nc3+ 45.Ka3 Ra5+ 46.Kb4 Ne4 47.Qh4 Rb5+ 48.Ka3 Nd2 49.h7 Nf3 50.Qa4
1–0
[pgn][Event "Correspondence"]
[Site "?"]
[Date "2015-16"]
[Round "?"]
[White "Visser, Anton P"]
[Black "Waller, Anthony"]
[Result "1-0"]
[ECO "B97"]
[WhiteElo "2226"]
[BlackElo "2238"]
[Annotator "Greet,Andrew"]
[PlyCount "99"]
[EventDate "2015.??.??"]
[SourceDate "2015.04.15"]
{We always enjoy hearing success stories from our readers. One such message
came in last week from Anton Visser, who tested Parimarjan Negi's repertoire
against the Najdorf in a correspondence game. Anton's verdict on Negi's
analysis is that it was "better than the computer my opponent used." Here is
the game:} 1. e4 c5 2. Nf3 d6 3. d4 cxd4 4. Nxd4 Nf6 5. Nc3 a6 6. Bg5 e6 7. f4
Qb6 8. Qd2 Qxb2 9. Rb1 Qa3 10. e5 dxe5 11. fxe5 Nfd7 12. Ne4 h6 13. Bh4 Qxa2
14. Rd1 Qd5 15. Qe3 Qxe5 16. Be2 Bc5 17. Bg3 Bxd4 18. Rxd4 Qa5+ 19. Rd2 O-O 20.
Bd6 Rd8 {We are deep into one of the crazy main lines of the Poisoned Pawn.
Parimarjan (or "Pari", as we call him) analyses it in Chapter 15 of 1.e4 vs
the Sicilian I.} 21. g4 $3 {Pari describes in the book how he discovered this
move in 2006, and was able to introduce it as a novelty four years later.
White throws his entire army into the kingside attack.} Nc6 22. g5 hxg5 23. Rg1
Nf6 (23… f6 {is Negi's main line, but of course he analyses the text move as
well.}) 24. Rxg5 Qa1+ 25. Rd1 {Now Black must give up his queen but he gets
more than enough material for it, so everything depends on White's attack.}
Qxd1+ 26. Kxd1 $1 (26. Bxd1 {led to an eventual victory for our hero in the
original game, Negi – Huschenbeth, Chotowa 2010, but he gives the text move as
the most precise continuation in the book.}) 26… Nxe4 27. Qxe4 Rxd6+ 28. Kc1
{Black has a rook, knight and three pawns for the queen, but he struggles to
hold his kingside together. This is one of the countless examples in the 1.e4
books where the engine rates everything as 0.00, but Pari has correctly judged
that Black has real problems.} e5 ({There was one previous game in this line,
where Black was crushed:} 28… Nd4 29. Bh5 Nf5 30. Qe5 Rd7 31. Bg4 Rd5 32. Qf6
Kf8 33. Qc3 g6 34. Bf3 Rb5 35. h4 $40 {(Pari cuts off the line at this point)}
e5 36. Qc7 Be6 37. Bxb7 Re8 38. Bxa6 Rd5 39. h5 Re7 40. Qb8+ {1-0 Ulbig –
Fortune, corr. 2013.}) 29. h4 {Pari notes on page 280 that White has a strong
attack here – and indeed, Black's kingside soon falls apart on the game.} Kf8
30. Qh7 Ke7 31. Rxg7 Be6 32. Bg4 Rf8 {Black has avoided being mated in the
short term, but he is unable to cope with the passed h-pawn. The rest is
relatively easy, especially at correspondence level.} 33. h5 Bxg4 34. Rxg4 Rf6
35. Qg7 Nd4 36. Re4 Nc6 37. Re1 Rd8 38. Rh1 Nd4 39. Qg5 Rd5 40. h6 Ne2+ 41. Kb2
Rb5+ 42. Ka3 Ra5+ 43. Kb4 Rb5+ 44. Ka4 Nc3+ 45. Ka3 Ra5+ 46. Kb4 Ne4 47. Qh4
Rb5+ 48. Ka3 Nd2 49. h7 Nf3 50. Qa4 1-0[/pgn]