Lars Schandorff's new Semi-Slav book
Nikos Ntirlis writes: The Semi-Slav is one of the most fascinating openings in modern chess. It is the opening that helped Vladimir Kramnik to climb Mount Olympus as a youngster and make his appearance among the best players in the 90s and today it is Vishy Anand's most trusted weapon. It helped him to get his first undisputed world title in 2007 and of course who can forget his amazing performance at the 2008 world championship match against Kramnik when the Indian scored two amazing wins with Black in the Meran variation! Of course Anand is still the man to watch for developments in the opening as he is still unleashing opening bombs like in his game against Aronian in Wijk aan Zee 2011!
We would expect such a popular opening complex to be well covered in modern literature, and this is the case. David Vigorito's "Play the Semi-Slav" is still surprisingly relevant in many lines despite being now seven years old and other experts like Dreev and Sakaev have also presented well respected works on the opening. Still, the last couple of years have been outstandingly rich regarding developments of many key lines for both sides and what is worse, the Semi-Slav has become so deeply and widely analysed that the typical club player will feel lost trying to navigate himself in the complexities of this minefield of modern chess.
In my humble opinion, it is very difficult to find a better author on this subject than Lars Schandorff. His other works for Quality Chess like the two "Playing 1.d4" books as well as the slightly older "Grandmaster Repertoire 7 – The Caro Kann" have proved that he has a special talent to present complex opening lines in a very reader-friendly way. Another thing is also at least as important, Lars is a true expert on the Semi-Slav who has vast experience of defending the opening successfully against strong opposition for many years (a look at the database will convince you!) and thus he has acquired deep understanding.
So, what the reader can expect from The Semi-Slav by Lars Schandorff is fascinating chess, deep analysis and research, and a very friendly presentation of the latest developments of this very important modern opening, many of which cannot be found in other works, simply because 2-3 years back many lines were not even known! This is one such example:
Aleksandr Martynov – Jan Rogos
Correspondence 2014
1.d4 d5 2.c4 c6 3.Nf3 Nf6 4.Nc3 e6
This is the starting position of the book.
5.e3
One of the two big main lines. 5.Bg5 is the other big branch were Lars analyses 5…h6 as well as the fascinating 5…dxc4.
5…Nbd7 6.Bd3
The Meran Variation. 6.Qc2 is another popular move which leads to more positional play and is presented in the book as well of course.
6…dxc4 7.Bxc4 b5 8.Bd3 Bb7 9.0–0 a6 10.e4 c5 11.d5 Qc7 12.dxe6 fxe6 13.Bc2 c4
So far so good. We have now one of the most well analysed tabiyas of the whole opening theory, the "Classical Meran". Still, in such a well-known position new ideas can be found.
14.Ne2!?
A move that was not considered anything special until Eljanov's convincing victory over Gelfand at Moscow 2010. It was only quite recently that Black found a convincing way to deal with it.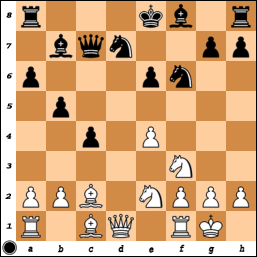 14…0–0–0!
14…e5 was tried by Gelfand in the aforementioned game against Eljanov. After 15.Ng3 Bc5 16.b3! White allows Black to put a pawn at c3, but this is something that was part of White's spectacular idea. Starting from this position many analysts recommended that Black should not push the pawn and simply let White take on c4, but the resulting positions are not that attractive for the second player. Lars' suggestion is much more fun as well as theoretically more sound!
15.Qe1?!
I have a personal experience here. I saw this move played live by GM Banikas against the young IM Antonis Pavlidis at the Greek Team Championships of 2012. Christos Banikas is always well prepared and so he unleashed this move almost immediately! Still, according to Lars another move is more critical: 15.Ned4 and now Lars analyses 15…Qb6 16.a4 e5 17.Nf5 Nxe4 in quite some depth concluding that Black is fine.
15…Bc5!
15…e5?! was seen instead at the aforementioned game Banikas – Pavlidis, Rion 2012, where White got the upper hand and won rather easily.
16.b4
White has to attack on the queenside.
16.a4 is met by 16…b4 according to Lars, and 16.Bd2 Nxe4 17.Ba5 Bb6 18.Bxb6 Qxb6 19.a4 Ndc5 is not especially attractive for White either.
16…Bb6! 17.Bb2
17.a4 Rhf8! followed by putting a knight at e5 is analysed by Lars with the conclusion that Black has a very dangerous initiative.
17…Rhf8 18.Ned4 Rfe8 19.Bc3 g6 20.Qb1 e5 21.Ne2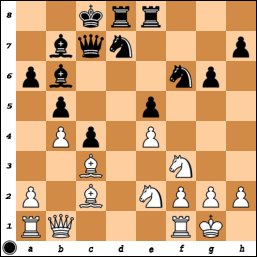 21…Nb8!
White's play has been very slow and he is still to produce a real threat to Black's queenside. After Black's last, the knight will arrive on d4 and show who is boss in the position.
22.a4 Nc6 23.Ng3 Nd4 24.Bd1 h5
White was so much disgusted with his position that he went as far to resign the game!
0–1
So, 14.Ne2 0–0–0 is one of those recent developments that have dramatically changed the opening in the last 2-3 years and you can find all of these presented in the just-published Grandmaster Repertoire book The Semi- Slav by Lars Schandorff.