Obvious Moves
The following position is from a game of mine at the 4ncl last Saturday.
J. Shaw – J. Pitcher, England 2014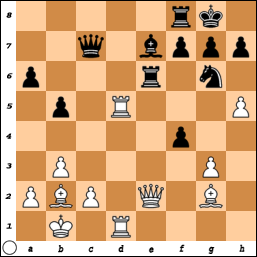 I have played a few decent moves to reach this position. I sacrificed a pawn (possibly temporarily) to free my wonder bishops. But my queen is under attack. So what should I play?
22.Qd2?
I played this after just a minute, with my thinking being: "I have to move my queen and this is obviously the right square, tripling and hitting f4."
In fact, it is probably not in the Top 5 best moves.
22.Be4! I was more than usually surprised when the engine mentioned this move. "Is that legal?" Yes it is, and it wins rather simply. For example: 22…f5 23.Rxf5! Rxf5 24.Bd5 OK, it's "simple" after you see it.
22.Qg4!? is also crushing and genuinely quite simple. Black will have to give up his knight, as 22…Ne5? 23.Rxe5 Rxe5 24.gxf4 is resignable.
Other decent moves included 22.Qd3 or 22.Qf3 or 22.Qf1.
22…f3!
That really is an "only move" as 22…Ne5? 23.gxf4 is killing.
Now if only my queen connected to f3, I could reply 23.Qxf3 and then meet 23…Ne5 with the powerful pin 24.Qf4.
23.hxg6
I decided to simplify before I had a bad accident.
23.Bxf3 Qxg3 is about level.
23.Bh3!? and 23.Bf1!? were both worth considering, but I didn't spot them either.
23…fxg2 24.gxh7+ Kh8 25.Qxg2 Bf6 26.Rd7 Qc5 27.Bxf6 Rxf6 28.Qe4
I have slightly the better of what I think should be a draw. Much later I managed to win a rook ending.
So, is there a lesson from this?
I am bad at spotting candidate moves. I make wild assumptions about something being an "obvious" or "only" move, when in fact there are many other stronger moves. I also make decisions based on very general grounds when a little more detail (even a little calculation) would help.
All true, and these are common faults in my games, not just a one-off. So I have the diagnosis, and I know what I need to work on. Now, do I have the time and/or motivation to do the work?