Playing the English by Nikolaos Ntirlis
The English Opening arises after 1.c4, and is a great practical weapon for players of all levels. White dictates the opening from the very first move, and often reaches positions where understanding themes and plans is more important than the latest computer-generated analysis.
Nikolaos Ntirlis has been Playing the English successfully for many years in high-level correspondence events, as well as teaching it to students ranging from club players to Grandmasters. While his analysis is first-rate, Ntirlis also understands the differing needs between correspondence and human play, and this repertoire is specifically tailored towards practical players.
Playing the English – A World-Class Repertoire provides a complete repertoire with 1.c4, showing how to meet every major option that Black may try. Each section of the book begins with an introduction outlining the main plans and concepts, so you will be equipped with both the strategic and theoretical knowledge needed to crush your opponents.
Nikolaos Ntirlis is an award-winning author, openings expert, and Correspondence IM. He has worked as an openings adviser to numerous GMs, including the Danish Olympiad team.
Publication Date: August 30th 2023
440 pages
Paperback ISBN: 978-1-78483-184-4
Hardcover ISBN: 978-1-78483-185-1

Reviews
"He finds the best line he can and that's the repertoire! … He always takes the time to explain the rationale behind choosing a specific system and he is very good at doing so too! ... On top of all that great explanation, the analysis is simply first class with many new, interesting and unusual ideas. All in all, a really great effort worthy of the highest praise! ... this is definitely worth 5 stars!"

GM Matthew Sadler, New in Chess

"I have been playing and studying the English Opening, on and off, for 40 years yet this book still brought many new ideas and plans to my attention. The clear explanations are also suitable for anyone taking up 1.c4 for the first time. Therefore, I can recommend this book to both sets of players: those who already play the English and those who would like to expand their repertoires by adding 1.c4 to their arsenal of openings."
Sean Marsh, CHESS

"I already indicated that opening books are not my favourite chess books and many are unread on my bookshelf. The greatest compliment I can give Nikolaos is: this book will remain on my desk and I will certainly continue to study it with great pleasure. In short: highly recommended for both c4 and d4 players. As far as I'm concerned: 5 stars."
Michel Hoetmer, www.schaaksite.nl full review

Digital Version available from Forward Chess
Digital Version available from Chess Tempo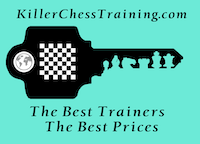 English Middlegame Strategies available in Videocourse from Killer Chess Training

Praise for the author's previous work:
"I thought I knew a fair amount about the Tarrasch, but after reading this book, I was amazed/aghast at how much I didn't know!" GM Matthew Sadler, New in Chess
Playing 1.d4 d5: "It's simply remarkable that there is so much useful information in only a modest-sized book. The author has a knack of finding the ideas that really matter without overloading the reader with superfluous references." GM Glenn Flear, New in Chess Yearbook