Negi Publication Day
Today is the official publication day of Parimarjan Negi's 1.e4 vs The Sicilian II.
In our terms, that means it's the day the new books will arrive at specialist chess shops. Some websale customers will already have received their books. If you bought on our site and haven't received your book yet, then it's in the post. As ever, we will be interested to know what you think of the book.
Parimarjan was in action in a mixed-format match against Hou Yifan last week. The result was 11–7 to the Chinese star, but Parimarjan had his chances, and even lost one on time in a dead drawn position, after being winning earlier. The biggest gap was in Fischer Random, which was won 3.5–0.5 by Hou Yifan.
No opening prep can help in Fischer Random, but Parimarjan did put some ideas from his book into action in the other games, including the following line against a rare but clever variation of the Accelerated Dragon. The following is a blitz game so I shall not analyse it in depth.
Parimarjan Negi – Hou Yifan
USA 12/11/15
1.e4 c5 2.Nf3 Nc6 3.d4 cxd4 4.Nxd4 g6 5.Nc3 Bg7 6.Be3 Nf6 7.Bc4 O-O 8.Bb3 Re8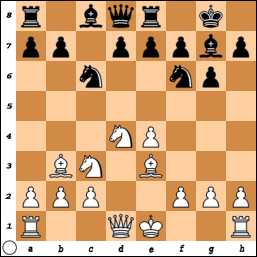 Negi devotes a whole chapter to this rare move. "This rook move is incredibly subtle, which is why it has almost exclusively been played by really strong players." You'll need to read Negi's explanation of the points of 8…Re8 to understand why he is so impressed by this move.
9.h4
The more ambitious of the two lines Negi recommends. Negi also covers 9.Nxc6 as a safe route to an edge.
9…Qa5
A novelty, but it looks risky for Black. Instead Negi analyses a range of options, mainly concentrating on Black trying to break in the centre.
10.h5
Bold. The solid reply would be 10.f3.
10…Nxe4
10…Nxh5 11.Nf5 looks fun for White, but maybe Black should try this, as her position in the game is unpleasant.
11.hxg6 hxg6 12.Qf3! d5
12…Nf6 13.O-O-O offers White a strong initiative.
13.Bxd5
White is doing well, and Negi later won a complicated struggle.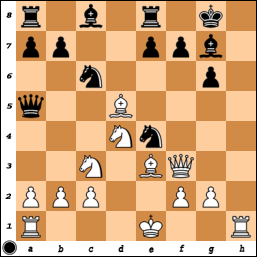 13…Nf6 14.Bb3 Bg4 15.Qg3 Rad8 16.Nxc6 bxc6 17.Rh4 Bh5 18.Ra4 Qf5 19.f3 e6 20.Qf2 Nd5 21.Nxd5 exd5 22.O-O-O d4 23.Bd2 g5 24.g4 Bxg4 25.Rxa7 Rf8 26.Rg1 Qxf3 27.Qxf3 Bxf3 28.Bxg5 Rde8 29.Bf6 Re1+ 30.Rxe1 Bxf6 31.Rf1 Bg5+ 32.Kb1 Bd5 33.Bxd5 cxd5 34.a4 Be3 35.Rd7 f5 36.a5 1-0