Petrosian on the Younger Generation by Danny McGowan
While working on Python Strategy by Tigran Petrosian (excerpt here), I especially enjoyed reading his opinions on the strengths and weaknesses of other players. The 'younger generation' players alluded to in the title, namely Jan Timman, Zoltan Ribli and Ulf Andersson, were all born in 1951 and all went on to have hugely successful chess careers – and indeed all still play to a high level to this day. Petrosian made his comments in 1973 as the players were rising through the ranks. Timman was an International Master at the time, while Andersson and Ribli had been awarded the Grandmaster title in 1972 and 1973 respectively. It is interesting to compare Petrosian's contemporary assessment of the trio with those we may hold now. So without further ado, I will hand you over to Petrosian:
I would particularly like to discuss the play of Timman, Ribli and Andersson. The Swede Andersson, the Dutchman Timman and the Hungarian Ribli are among the leading young players who will undoubtedly put pressure on the older generation in the next few years. And whenever I come together with them, there is something I would like to know. When we give up our place in the chess sun to the young talents, will it be because our play has changed for the worse on account of our age? Or will those who begin to surpass us be chessplayers who have risen to a new, higher level of mastery?
Ulf Andersson: small and slight, in outward appearance he seems more like a child who has strayed into the hall looking for a simultaneous display than a fully-fledged competitor in the main tournament. I somehow feel sorry for him. He crazily trails from tournament to tournament, and the easy opportunity to lead the life of a modern chess professional (who fortunately is not overburdened with worries about every crust of bread, unlike the professional of the not too distant past) has already left a grave imprint on his manner of play and his tournament psychology. In his games you rarely, very rarely see him aspiring to a full-blooded struggle. "Safety first" is not a motto before which chessplayers in such young years ought to bow. It leads to nothing good. And yet Andersson is capable of simply playing well. He possesses positional understanding, a keen eye for tactics, and vast theoretical knowledge to go with a well-worn tournament repertoire. In a word, all the signs of a top-class player are present. And at the same time – there are all the signs of creative stagnation.
The play of the young Hungarian Zoltan Ribli arouses conflicting feelings. After going through a solid course of chess education, he appeared in the international chess arena at quite an early age. Today he is an experienced and frequent competitor in international tournaments. His opening repertoire is fairly original, ranging from conventional systems in the English Opening to the sharpest of forced variations in the Sicilian Defence. But from examining his games I have not been able to make out where his heart lies – in chess adventures, or in positional manoeuvring? I readily admit that Ribli is still at a chess crossroads, seeking his style. If that is so it is a very good thing, because it is only by independently seeking his way that a talented young player can be launched into the orbit of high-level chess. But there is one "but" with his play, and it is a big and disturbing one – namely the speed with which he takes crucial decisions. In his game with me, there was an instance of this.
 Tigran Petrosian – Zoltan Ribli
Amsterdam 1973
 1.d4 Nf6 2.Nf3 g6 3.Bg5 Bg7 4.Nbd2 0–0 5.c3 d6 6.e3 Nbd7 7.a4 h6 8.Bxf6 Bxf6 9.a5 a6 10.Qc2 e5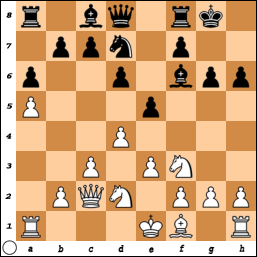 In this position there followed:
11.Bc4 Kh8 12.h4 h5 13.Ne4 Bg7 14.Neg5
It was only here that Ribli permitted himself to catch his breath. His last three moves, every one of which deserves a question mark, were played in a manner characteristic of blitz chess. I must admittedly give him his due – at this point and on the next move, he found the only possibility for continuing the game: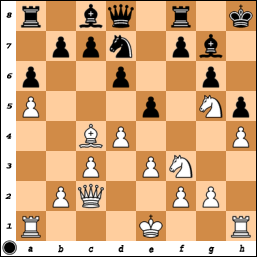 14…Qe7 15.Qb3 e4 16.Nd2 Bh6 17.Nxf7+ Kg7 18.Nxh6 Kxh6 19.Nf1 Nf6 20.f3 exf3 21.gxf3 Ng4 22.fxg4 Bxg4 23.Be2 Rxf1+ 24.Rxf1 Qxe3 25.Qc2 Re8 26.Rf2 Qg3 27.Qd2+ Kg7 28.Qf4 Rxe2+ 29.Kf1
½–½
So the facts show that Ribli suffers from a malady characteristic of many talented young chessplayers, who are convinced (who did convince them?) that they are capable of grasping the essence of a position at lightning speed and finding the correct move just as quickly. At the present time, superficiality is Ribli's main weakness.
The Dutch set high hopes on Jan Timman. A young but already experienced professional, the impression he makes on the uninitiated can be that of a youth whose life as a chessplayer rests purely on his outstanding talent. This is not so. Timman works at his chess systematically, and as a result his analyses have contributed to numerous topical variations of contemporary theory.