Avrukh on the Catalan
While watching the live transmission of the US Championship a couple of weeks ago, I noticed the following game which followed one of the new lines in Grandmaster Repertoire 1A – The Catalan. In the game White went wrong and lost badly, so I was keen to see how the game compared with Boris's analysis.
A. Sharevich – K. Nemcova
Saint Louis 2015
1.d4 Nf6 2.c4 e6 3.g3 d5 4.Nf3 dxc4 5.Bg2 Bd7 6.Ne5 Bc6 7.Nxc6 Nxc6
This line never used to have the best reputation for Black, but in the years since GM 1 was published it has undergone something of a resurgence thanks to an interesting plan involving long castling.
8.0–0 Qd7 9.e3 0–0–0!?
This is the fashionable way to handle Black's position. The database contains one email game from 2003, but apart from that, every game has been played from 2009 onwards.
In GM 1 Boris gave 9…Rb8 as the main line, while also considering the sidelines 9…e5 and 9…Nd5. Obviously these lines are also given with updated analysis in the new book.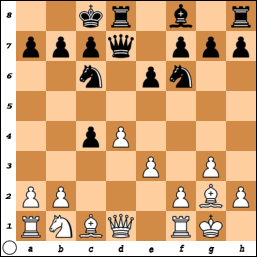 10.Qa4
Boris mentions that he initially liked 10.Nd2 for White, when the most popular line 10…h5 11.Nxc4 is indeed promising for him.
However, he changed his mind after examining 10…e5!, after which Black's position proved fine in Giri – Harikrishna, Biel 2014. The fact that such a well-prepared super-GM as Giri failed to prove an advantage shows how seriously this line should be taken.
10…Nd5
10…h5 is less accurate, as Boris demonstrates in the book.
11.Qxc4 h5 12.Bd2!
So far Sharevich is doing everything right.
12.Nc3 has been played more frequently, but it is more important to get a rook to the c-file and advance the b-pawn.
12…h4 13.Rc1 hxg3 14.hxg3 f5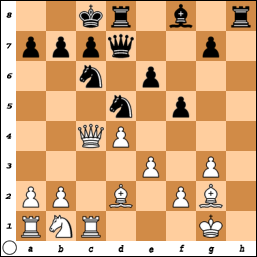 15.Nc3
The strongest continuation is: 15.b4! Bd6 Avrukh demonstrates in his book that capturing the pawn is dangerous for Black. 16.b5 Nce7 17.Nc3 Kb8 18.a4 White went on to win in Swinkels – Polaczek, Germany 2013. Compared to the main game, the queenside attack is much more advanced. Boris goes on to provide an improvement for White a few moves later; further details can be found in the book.
15…g5 16.Qa4 Kb8 17.Nxd5 exd5 18.b4?!
18.Rc2 prepares to double on the c-file, and after the natural 18…Ne7 19.Qxd7 Rxd7 the queenless position is about equal. Considering the course of the game, White should have settled for this.
18…Bd6 19.b5?
White should have tried 19.Bxd5 Bxg3 20.Bxc6 bxc6 21.Qxc6, when Black does not seem to have anything decisive, although there is no question of White getting more than a draw.
19…Ne7 20.f4?
White was already in trouble due to the threat of …f4, but the game continuation fatally weakens her kingside.
20…Ng8! 21.Qb3 Nf6 22.fxg5 Ne4 23.Be1 Qh7
The rest of the game is painful to watch, as White takes a savage mauling.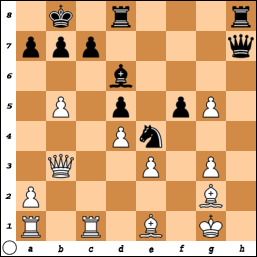 24.Qxd5 Bxg3 25.Qe6 Nxg5 26.Qc4 Bxe1 27.Rxe1 Ne4 28.Qc2 Rdg8 29.Rac1 Qh1#
0–1
Conclusion
The Catalan is still an excellent opening, but there are plenty of double-edged lines where things can go badly wrong for White after inaccurate play. GM 1A shows how to get the absolute best out of the Catalan, while avoiding the sort of thing that happened in the above game.