GM 16 French – Killing the King's Indian Attack
Here's another preview of Grandmaster Repertoire 16 by Emanuel Berg, which is published today. It consists of a few lines I pulled from different parts of the relevant chapter, so this should not be considered an excerpt from the book, which is a lot more detailed.
I decided to show you a glimpse of Emanuel's recommendation against the King's Indian Attack, which is always popular at club level. I have focused on a couple of lines involving the author's own games. Throughout the book and indeed most of the series, he has recommended lines that he himself plays, and this chapter is no exception.
1.e4 e6 2.d3 d5 3.Nd2 c5 4.Ngf3
4.g3 is an alternative move order, with which White may try to avoid Black's recommended system. The point is that, after 4…Nc6 5.Bg2, Black is unable to develop the bishop on d6 due to the hanging d5-pawn.
Therefore Emanuel prefers 4…Bd6, when 5.Bg2 Ne7 6.Ngf3 Nbc6 reaches the desired set-up. 5.Qg4!? is an interesting way to deviate, but Emanuel looked at it carefully and found an improvement for Black, which will be revealed in the book.
4…Nc6 5.g3 Bd6 6.Bg2 Nge7 7.0–0 0–0 8.Re1 Qc7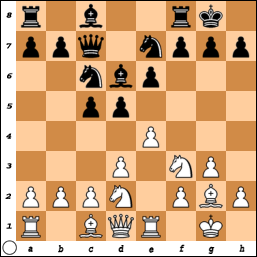 This set-up a great practical choice against the KIA. Black prevents the standard plan of e4-e5, and seeks to gain space. If White is not careful, he may easily find himself in a passive position resembling a reversed King's Indian Defence gone wrong.
9.c3 Bd7
The main line continues:
10.Qe2
The following is mentioned in a note: 10.Qc2 Rac8 11.a3 (11.d4? loses a pawn after 11…cxd4 12.cxd4 Nxd4!) 11…b5 12.Nf1 d4 13.cxd4 cxd4 14.Bd2 e5 Black had a stable position and a small plus in Atarov – Berg, Internet 2004. The idea of meeting Nf1 with …d4, gaining space and restricting the knight, is a recurring theme in the chapter.
10…f6 11.a3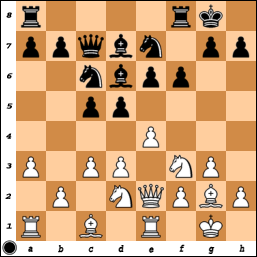 11…Rac8!?
Emanuel also gives some brief analysis of 11…a5 and 11…d4!?, so the reader can choose the type of position he likes best.
12.h4
This is a typical move for the KIA, and exactly the type of move that your opponents might make when they are not sure what else to do. Another example is Nd1-f1-h2. One of the nice things about Black's chosen set-up is that these standard manoeuvres tend not to work well.
12.b4 is the main line, in which Emanuel found an important novelty for Black. Again, details can be found in the book.
12…b5 13.h5 d4 14.c4 a6 15.Nh4 e5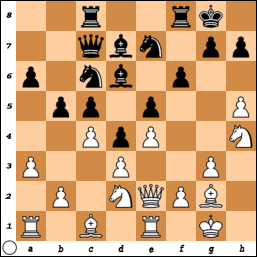 Black already held a clear advantage in Kinnmark – Berg, Sweden 1999. The note in the book ends here, but I will give a few more moves of the game.
16.b3 Rb8 17.Rb1 Be6 18.cxb5 Rxb5
18…axb5! is stronger.
19.Bf3 Na5 20.Bg4 Qd7 21.Bxe6+ Qxe6 22.Qf3
Black went on to win after 22…Rfb8, but 22…Nxb3! would have been a simpler way to win a pawn for nothing. Emanuel was only rated 2348 at the time, but when you see that the game is dated 1999, you get an idea of his experience and how well he knows the topic under examination.