Executing the Exchange French
Playing for a win against the Exchange Variation is a challenge that every French player will face at some point. In Grandmaster Repertoire 16 – The French Defence Volume Three, where appropriate Emanuel Berg advocates long castling for Black, followed by a kingside attack . His coverage of this plan improves significantly over the work of other authors, especially when it comes to identifying certain positions and moves orders where Black should NOT castle on the queenside.
Here is a shortened version of Emanuel's analysis of a line where Black's aggressive strategy works perfectly.
1.e4 e6 2.d4 d5 3.exd5 exd5 4.Nf3 Bd6 5.Bd3
Obviously White has several options on moves 4 and 5, all of which are discussed in the book.
5…Nc6 6.0–0 Nge7 7.c3 Bg4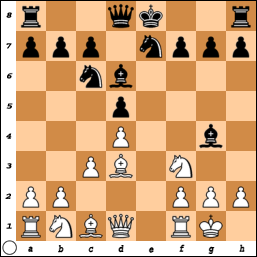 Although Black's last move hints at long castling, Emanuel makes it clear that Black should wait to see what White does over the next few moves before committing his king. If he opts for queenside castling at the wrong time, he could find himself clearly worse. Another important point is that …0–0 should not be played too quickly due to the Bxh7† trick.
8.Bg5
This is quite a popular move, which has the idea of going to g3 to exchange Black's 'good' bishop.
8…f6 9.Bh4 Qd7 10.Nbd2
10.Bg3 Bxg3 more or less forces 11.fxg3, with a probable transposition to the next note. Instead 11.hxg3? h5! is a typical scenario where Black gets a strong attack.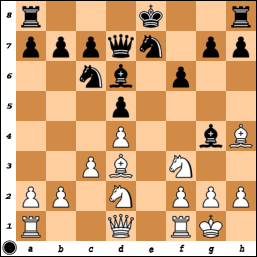 10…0–0–0 11.b4
Emanuel also shows that 11.Bg3 Bxg3 12.fxg3 (12.hxg3? h5! is, once again, far too dangerous) 12…Nf5 is promising for Black, and offers an improvement over one of his own games a few moves down the line.
11…Nf5 12.Bg3 Nxg3 13.hxg3
13.fxg3 Rde8 14.Qc2 Kb8 15.a4 occurred in Elbasuny – Amin, Amman 2006, and now Emanuel gives the improvement 15…Ne7!N, intending …Nf5 and/or …h5, with good attacking chances.
13…h5!
Watson recommends 13…Ne7 intending …h5, but Emanuel points out that pushing the h-pawn should be the top priority, as Black may be able to do without the knight move.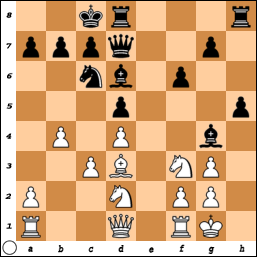 14.Qb3 h4!N
Proving the above point.
15.gxh4
15.Nxh4 is met by 15…Ne7 intending …g5, when the opening of the h-file will prove disastrous for White.
15…g5!
Black succeeds in opening up the kingside, giving him a clear headstart in the attacking race.