Negi novelty tested
The Poisoned Pawn variation of the Najdorf is one of the most theoretically dense variations in modern chess. Negi gave plenty of ideas against it in 1.e4 vs The Sicilian I. But would players remember the theory? And would the ideas work?
Yes and yes. Obviously.
Jorden van Foreest (2494) – Nico Zwirs (2358)
Amsterdam 20.02.2015
1.e4 c5 2.Nf3 d6 3.d4 cxd4 4.Nxd4 Nf6 5.Nc3 a6 6.Bg5 e6 7.f4 Qb6 8.Qd2 Qxb2 9.Rb1 Qa3 10.e5 dxe5 11.fxe5 Nfd7 12.Ne4 h6 13.Bh4 Qxa2 14.Rd1 Qd5 15.Qe3 Qxe5 16.Be2 Bc5 17.Bg3 Qd5 18.c4 Bxd4 19.Rxd4 Qa5+ 20.Rd2 0–0 21.Bd6 Rd8 22.g4 Nc6
All Negi. It's on page 255 of the book if you wish to check.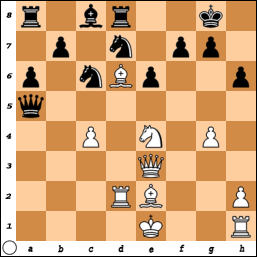 23.g5!?
This move was a novelty when Negi suggested it, and 15-year-old Dutch IM Jorden van Foreest is the first to test it. In Negi's words, this move is "the maximalist try".
Negi's main line is 23.0–0!? which is "the simplest way, which does not require too much analysis."
23…hxg5 24.Rg1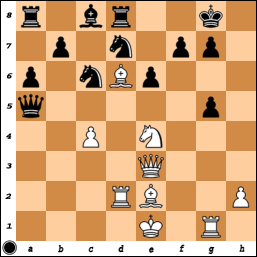 24…Nde5
Finally leaving the book.  The line Negi gave was 24…f6 25.h4 Nde5 26.hxg5 f5 27.Nf6+ Kf7 28.c5 'with compensation'. This line shows one benefit of having an immensely strong player writing the book, as an engine would not guide a lesser player towards this line. For most of the line the machine is saying Black is much better, but in the final position, after a while, it begins to see the danger.
25.Rxg5 Rxd6
Sacrificing the exchange is a good thematic try.
26.Nxd6 f6 27.Rh5!
The threats on the h-file are extremely strong.  I would have been tempted to keep firing on the g-file with 27.Rg1!? which should also work.
27…Ne7?!
Now White breaks through directly.  27…f5 was a stouter defence, but White has various good replies, including 28.Qg3!? switching the focus back to the g-file.
28.Qh3!+–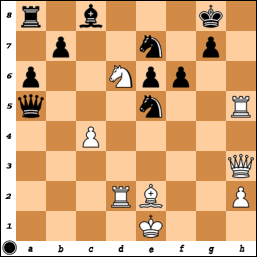 28…N7g6 29.Nxc8 Nf4
29…Rxc8 30.Qxe6+ is of course hopeless.
29…f5 was a try, hoping that White misses 30.Ne7+! but the way White played this game, one can be sure he would not have missed this decoying blow.
30.Rh8+ Kf7 31.Bh5+ Neg6
31…g6 32.Bxg6+! would be mate in just two more moves.
32.Bxg6+ Nxg6 33.Nd6+ Ke7 34.Rxa8
The material count is two rooks against three pawns.
34…Qe5+ 35.Re2 Qa1+
35…Qxe2+ 36.Kxe2 Nf4+ 37.Ke3 Nxh3 wins back a rook, but that still leaves Black one rook down. In an ending.
36.Kf2 Qd4+ 37.Kf1 Qf4+ 38.Kg2 Qxd6 39.Rxe6+! Qxe6 40.Re8+ Kf7
A funnier exit than resigning.
41.Qxe6#
An impressive game by the young Dutch player.