The French Fist of Fury
Ian Snape (2135) – Andrew Greet (2450)
4NCL, 14.02.2015
My opponent is not so highly rated, but he used to be in the high 2200s and in our previous meeting I was on the rough side of a draw. This time, however, I had Playing the French to help me…
1.e4 e6 2.d4 d5 3.Nc3 Nf6 4.e5 Nfd7 5.f4 c5 6.Nf3 Nc6 7.Be3 a6 8.Qd2 b5 9.dxc5 Bxc5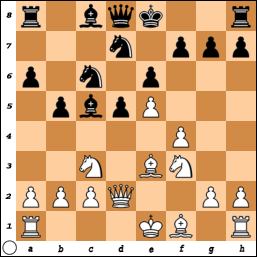 10.Ne2
In one previous game my opponent played 10.Bxc5 Nxc5 11.0–0–0, which seems rather risky. 11…Qb6 12.Bd3 b4 13.Ne2 a5 14.Ned4 was Snape – Shepherd, Coulsdon 2013, and now after 14…Nxd4 15.Nxd4 0–0 Black's attack is further advanced.
I also saw that Snape has played the text move on two previous occasions, but neither of his opponents chose the most accurate continuation at move 12 below.
10…Qb6 11.Bxc5 Nxc5 12.Ned4 Bd7!
12…Nxd4 13.Nxd4 Bd7 is fully playable, but the text move is more flexible, as explained in "Playing the French". Rather than hurry to exchange knights, I'll let my opponent do it and develop my bishop in the process.
13.Nxc6 Bxc6 14.Nd4 0–0
Black can transpose to the previous note with 14…Bd7, but there is no need at this point, as White is hardly threatening to exchange on c6, and f4-f5 would be premature. This was about as far as I got in my preparation; I did skim through a couple of illustrative lines in PTF where Ntirlis shows how to combat White's dark-square strategy, but I didn't memorize any of it, as time was limited and I needed to check a few different openings. Besides, this is about as deep as you need to go with specific preparation – if you understood the position well enough, you should be able to play a decent game from here.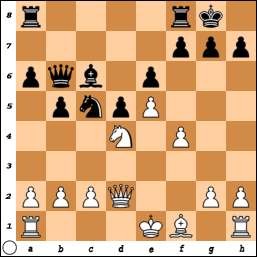 15.0–0–0?!
A bit too risky. 15.Qe3 and; 15.Bd3 make more sense, aiming for a positional game, although Black should be fine in either case.
15…b4 16.Bd3 Bb5!
This illustrates perfectly why 12…Bd7 was more accurate. The bishop does not have to retreat to d7, and can instead save time by going directly to b5. Of course, I also had to be ready for the following pawn grab.
17.Qxb4
After the game I checked the database and saw that 17.Ne2? b3! 18.a3 Nxd3† 19.cxd3 Rfc8† led to an easy win for Black in Winterfeld – Liedtke, Germany 1999.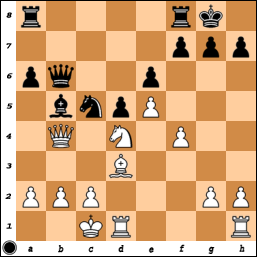 17…Rfb8!
This was my idea, guarding the b5-square and threatening… well, you'll see on the next move.
18.a3?
A mistake, but White was already in trouble. For instance, 18.Nb3? Nxd3† 19.cxd3 Rc8† wins trivially. Either capture on b5 would also be disastrous, as Black gets a huge attack after …axb5.
The computer indicates that 18.Be2 and even 18.Bf1 were the two possible ways to avoid an immediate disaster, although in both cases Black obviously has more than enough activity for the sacrificed pawn.
18…Nxd3† 19.cxd3
With a bit more thought, my opponent might have realized that 19.Rxd3 Bxd3 20.Qxb6 Rxb6 21.cxd3 was the only way to prolong the game, although the ending should be winning for Black in the long run.
19…a5
And in view of 20.Qxb5 Qxd4, or 20.Qc3 Rc8, White resigned.
0–1