Petrov's 'The Modern Benoni' – still working
I like to keep an eye on how our various opening repertoires are performing over the board. When seeing a new game in the database, there will be comments in the office such as "That's in Avrukh" or "I edited this line – it's in Petrov." The following recent game from the Tradewise Gibraltar Masters is both Avrukh and Petrov.
Re. Schaefer (2104) – M. Muzychuk (2520)
Gibraltar Masters 27.01.2015
1.d4 Nf6 2.c4 e6
A move order favoured by some Benoni fans.
3.g3
After 3.Nc3 Black might well prefer 3…Bb4 rather than a Benoni.
3…c5
With White committed to a kingside fianchetto, the Benoni is a more attractive option to some.
4.d5 exd5 5.cxd5 d6 6.Nc3 g6 7.Bg2 Bg7 8.Nf3 0–0 9.0–0 Re8
9…a6 10 a4 is an equally common move order.
10.Nd2 a6 11.a4
Back in the main line.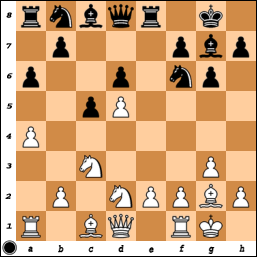 11…Nbd7 12.h3 Rb8 13.Nc4 Ne5 14.Na3 Nh5 15.e4 Bd7 16.a5 b5 17.axb6 Bb5 18.Naxb5 axb5 19.Nxb5 Qxb6 20.Na3 Qb3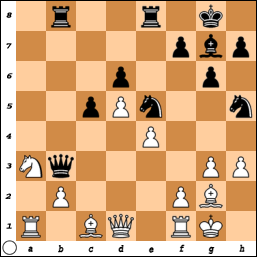 This is all following the main line of the main line of the main line of Marian Petrov's answer to the Fianchetto System. It is variation B332322 on page 244 of GM Repertoire 12 – The Modern Benoni for those who have the book. It is also where Petrov meets Avrukh's GM Repertoire 2. I would bet Boris will choose something different next time.
21.g4 Nf6 22.f4
Finally varying from our Benoni book. Petrov gave 22.Rb1 Qxd1 23.Rxd1 Rb3 24.Kf1 as in Sasikiran – Battaglini, Bastia 2011, and now suggested the novelty 24…Reb8 'with compensation' and offered some more analysis.
22…Nd3 23.Qxb3 Rxb3 24.Nc4 Nxe4
White is under pressure, but he can hold with accurate play.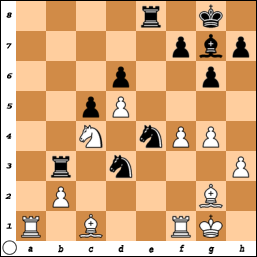 25.Ra3?
Allowing a nasty knight trick.  Stronger was 25 Bxe4 which might lead to equality after a line such as 25…Nxc1 26 Nxd6 Rd8 27 Nc4 Ne2+ 28 Kg2 Bxb2 29 Rae1 Nc3=.
25…Rxa3 26.bxa3 Ng3!–+
Unfortunately for White, in addition to the attack on the rook there is also a threat of a knight check on e2 then taking on c1.
27.Bd2 Bd4+ 28.Kh2 Nxf1+ 29.Bxf1 Nb2 30.Nxb2 Bxb2 31.a4 Re4 32.a5 c4 33.a6 c3
A smooth win for IM Mariya Muzychuk – theory until move 21 and winning on move 25. White just made one real mistake and the game was over – in sharp lines this can happen.
0–1