Testing a Negi Recommendation
Andrew Greet (2454) – Adam Hunt (2437)
4NCL 10.01.2015
Adam Hunt has always been a tough opponent for me. I lost to him several times as a kid, drew some games here and there, but had never beaten him. Our most recent clashes were in 2010, when I drew one game from a winning position and lost another in which he simply outplayed me. In short, I felt like I needed to do something different to break out of the cycle of bad results. It just so happens that Adam is a lifelong Najdorf player and, at the time when the game took place, I had not long finished editing Parimarjan Negi's superb 1.e4 vs The Sicilian I against this very opening. Despite not having played against a Najdorf in well over a decade, and never having played 6.Bg5 in a serious game in my entire life, I decided this would be a good moment to roll the dice. To make matters more interesting, the book was not yet published and I didn't have any of it saved on my laptop, so my preparation was based entirely on my memory of editing the book. Fortunately Parimarjan did an excellent job of explaining the most important ideas, so I felt like I would have reasonable chances to bluff my way through any unfamiliar territory.
1.e4 c5 2.Nf3 d6 3.d4 cxd4 4.Nxd4 Nf6 5.Nc3 a6 6.Bg5 e6 7.f4 Be7 8.Qf3 Qc7 9.0–0–0 Nbd7
My pre-game prep revealed that Adam had tried a few different lines against 6.Bg5, but the Three-Piece System (to use Negi's terminology) had been his most frequent choice.
10.f5!?
Negi mainly focuses on the main line of 10.g4, in which he also has some excellent ideas for White. However, I decided to go for the text move, which is covered as a secondary option. I chose it partly for surprise value, and also because I was familiar with the main plans and knew I wouldn't have to recall too many complicated variations.
10…e5
This is Black's most popular reply, and Adam did not spend much time on it.
10…Ne5 is another move, when Negi recommends 11.Qh3 to hit e6, rather than 11.Qg3 which he himself once played.
11.Nde2!
11.Nb3 has been more popular, but it will soon become clear that the knight is better on e2.
11…b5 12.Bxf6 Nxf6 13.Nd5 Nxd5 14.exd5 Bb7N
The first new move, although it is an obvious choice which Negi gave as his main line.
14…b4 has been played before, but after 15.Ng3 Black followed up with 15…Bb7 anyway in Grabarczyk – Matuszewski, Grodzisk Mazowiecki 2007. Hunt's move is more accurate, as Black has no reason to hurry with …b4.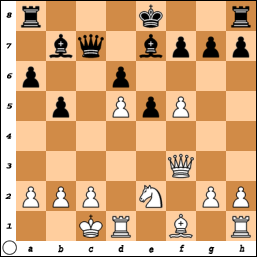 15.Ng3 Rc8 16.Bd3 Qc5 17.Be4
I couldn't remember if this exact position was in Negi's book, but I knew that this was more or less White's ideal set-up. The bishop on e4 does a perfect job of guarding the weak points on c2 and d5. The knight is poised to go to h5, followed by a kingside advance. Black has no obvious counterplay, his bishops have limited scope and his king faces an uncertain future. In short, the outcome of this rare opening line  is excellent for White, so this can be considered a superb recommendation from Parimarjan.
17…Bg5† 18.Kb1 Qe3 19.Qh5
Although I was unaware of it during the game, this is actually the point where Negi ends his analysis. He gives a 'plus-equals' symbol with the comment: "White will soon drive the enemy pieces away with Rd3 and h2-h4."
19…Bh6 20.Rd3 Qg5 21.Qe2 0–0 22.h4
I spent more than half an hour considering the various possibilities here. The key attacking idea is f5-f6, but should I play it immediately, or after h2-h4, or should I put a rook on the f-file first, and if so, which rook?
22…Qd8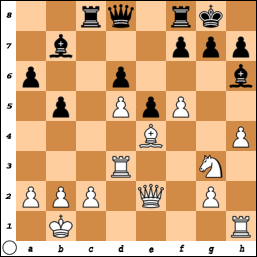 23.f6!
23.Nh5 f6 24.g4 is another possibility, but I thought I risked losing control after a timely …Bf4, when exchanging on f4 might win a pawn but allow counterplay along the e-file.
23…Qxf6 24.Rf1 Bf4
24…Qd8 25.Nf5 is unpleasant for Black.
25.Nh5 Qd8?
25…Qh6 is better, although 26.g4 (26.g3? f5!) 26…f6 27.Bf5 gives White an excellent position.
26.g3?
I overlooked 26.Nxg7!, with the point that 26…Kxg7 27.Qg4† is crushing.
26…f5!
Now Black is better, although White is very much in the game. Obviously we are past the point of relevance to the opening. Still, the rest of the game contains some interesting moments.
27.gxf4 fxe4 28.Rg3 Rc7 29.Rfg1 g6
29…Rff7! 30.Qxe4 Qf8! is the more precise continuation proposed by the metal box.
30.Qxe4 Kh8 31.fxe5 gxh5
31…Rcf7 32.Qe1! gxh5 33.e6 forces the rook back to c7.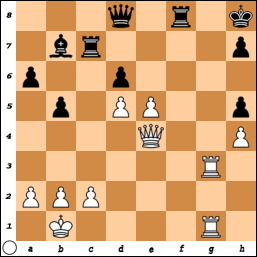 32.e6
During the game I thought this looked extremely dangerous for Black. The position is in fact dynamically equal.
32…Rc4
32…Qf6 33.Qg2 Rcc8 34.a3 leaves Black tied up, but it is hard to improve White's position, so I think it should be a draw.
33.Qe3 Qe7 34.b3
34.Rg5! would have put Black in trouble.
34…Rg4 35.Rxg4 hxg4 36.Rxg4?
Better was 36.Qd4† Qg7 37.Qxg7† Kxg7 38.Rxg4† Kf6 39.Rf4† Ke7 40.Rxf8 Kxf8 41.c4 with a drawn endgame.
36…Qf6
36…Rf1† 37.Kb2 Bxd5 38.Qd4† Qf6 39.Qxf6† Rxf6 40.Rd4 Bxe6 41.Rxd6 The game goes on, but White is struggling.
37.Rd4 a5 38.a3 b4 39.Ka2 Rc8 40.Rc4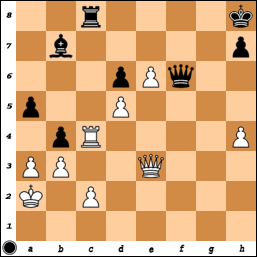 40…bxa3?
Allowing the rooks to come off is an ill-fated decision for Black.
40…Rg8! would have maintained an edge for him.
41.Rxc8† Bxc8 42.c3 Qe7 43.Kxa3 Kg7 44.Qd4† Kg8 45.Qc4 Qb7
45…Bxe6 does not work due to 46.Qe4.
46.Ka4 Kf8 47.Qf4† Ke8 48.Qf6
1–0
It would have been lovely to have won a perfect attacking game (26.Nxg7!), but things rarely go so smoothly when facing a tough opponent. Still, I enjoyed testing Negi's repertoire over the board, and if a '6.Bg5 virgin' like me can use it to get a clear advantage, there must be something to it. 1.e4 vs The Sicilian I by Parimarjan Negi is published on 4th February 2015.