Scotland FM
Quality Chess, as you may know, is based in Glasgow, Scotland. So we like to keep an eye on the progress of Scottish chess players. In terms of players gaining higher titles, the last few years have seen slim pickings. But recently two Scots pushed their ratings over 2300, and so will become FIDE Masters. Congratulations to Clément Sreeves and Andy Burnett.
Andy's elevation comes about a month after we sent some Quality Chess books his way, as a minor way of sponsoring his title-seeking efforts. Sadly we cannot claim any of the credit as Andy has barely had time to read any of the books. Andy's blog is here but with all the events he has been playing, he has not had time to update it recently.
Clément and Andy join the ranks of Scottish FMs who have realistic chances of becoming IMs. In fact, FMs Graham Morrison and Alan Tate have all the IM norms required, and just need to boost their ratings to 2400 to collect their titles.
And our best candidate for next Scottish GM? IM Andrew Greet.
The following crushing win was played by Andy Burnett in the Czech Republic last year.
A. Burnett – F. Ludvigsen
Olomouc 2014
 1 e4 e6 2 d4 d5 3 Nc3 Bb4 4 Qf3
Intriguing, or maybe Andy really played 4.Qd3 and the game was input incorrectly in the database. Emanuel Berg did not cover 4.Qf3 in his French repertoire book, which is fine by me – you cannot cover every crazy move even in a 'complete' repertoire.
4…dxe4
Rather compliant, regardless of whether the queen is on d3 or f3. 4…Nc6!? looks logical – attack the thing that's not defended. White may well still be equal.
5 Qxe4
We are now back in a known theory line, though of course the queen normally gets here via d3.
5…Nf6 6 Qh4 c5 7 dxc5 Bxc5
A little slow. Normal is 7…Bxc3+ 8 bxc3 Qa5.
8 Nf3 Nc6 9 Bb5 Bd7
9…0–0 was simpler.
10 Bg5 Be7 11 Rd1 Qa5?!
More solid was 11…Qc7!?.
12 0–0
Actually the same idea that Andy plays next move was already playable.
12…a6
12…Rd8 was safer.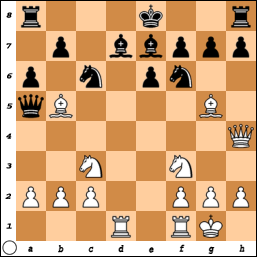 13 Rxd7!
Ensuring the black king will never be safe is fine value for an exchange.
13…Kxd7 14 Ne5+ Kc7
The computer suggests 14…Kc8 but after 15 Nxc6 bxc6 16 Bxc6 White has more than enough compensation; or maybe a bishop and pawn is level material against a rook? Anyway, White's better.
15 Nc4
Over the next few moves the queen is used as a punching bag.
15…Qb4 16 a3 Qc5 17 Be3 Qf5 18 Qg3+ e5 19 Bb6+ Kc8 20 Bxc6 bxc6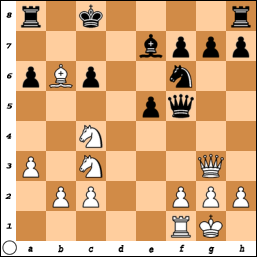 21 Re1!±
Calmly including all his pieces. The black king will wait.
21…Nd7 22 Ne4 Qe6 23 Qc3 Rb8
Ending his own suffering was probably for the best.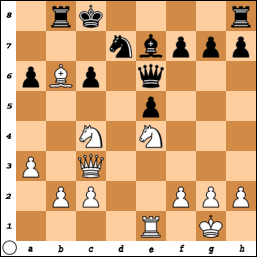 24 Ncd6+!
And mates. A fine game, showing how to keep the enemy king in the centre, then close in and finish him.
1–0