Chasing the unachievable
I was visiting Peter Heine Nielsen in around 2009. He was on that day in a bit of a low mood, questioning what he was doing and how he was organising his life. As we all do this from time to time, I do not think I break any confidences in saying this. His biggest frustration was professional. He would spend at least 20 hours each week trying to find an advantage for White against the Marshall and the Berlin Defence (later renamed the Berlin Wall – or very recently, the London Defence by Anand…) on behalf of the then World Champion, Viswanathan Anand. Everyone knew that this was an unachievable task. Still the work had to be done, in order that the advantage would exist only for the brief moment in time that is a game of chess…
A similar thing happens when we are practising calculation. Especially these days when everything is checked by computers. I see it clearly these days while I am working with quite a strong student on his calculation before a series of spring tournaments. He is a very strong player, but calculating is still not an easy task for him.
And the issue with calculation is of course the same as with opening analysis. The game is rigged. Chess is a draw; there is no advantage to be found against good defence. And calculation exercises are an even bigger scam. If you are at your peak, all you can do is match the computer's findings.
At least theoretically this is so. In reality there are some exercises that are "cooked", meaning that the student finds something the teacher did not anticipate because of his fallible nature, or (rarely) the computer is beaten by the student. It is very pleasing when it happens in tactical positions; but much more likely to happen in weird cases where calculating 10 moves ahead does not give any significant advantage.
The example from above is one of my favourites:
Grischuk – Bologan, Astana (rapid) 2012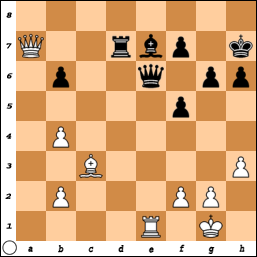 In the game Bologan resigned after 33.Qa8? instead of playing 33…Qxe1+! 34.Bxe1 Rd1. After taking on e1, the rook can return to e6 and the fortress is simple.
I believed falsely that 33.Qb8? was stronger, because the b-pawn falls. So did most of my students at a training seminar in Denmark.
Only IM Nikolaj Mikkelsen rejected this idea. He suggested that 33.Rxe6!! followed by taking on b6 was the only way to play. And indeed he was right. With the rook on e6, Black can put the bishop on b6 and White cannot create serious winning chances as far as I can see. Remember that the king cannot make it across the e-file.
Or maybe we are all crazy?
Anyway, I feel this is a good point to the story. We are chasing an impossible goal; to calculate without mistakes, to out-calculate the computer, to find an advantage against the Marshall or Berlin and so on. Whenever we find a hole in the impossible, creating the magic of being better than the machines for just a moment, theory or the solutions will get repaired and the scope for upsets reduced with one again. It is the nature of the game. But it is still fun playing! At the end you have to beat your opponent and not a computer…