A simple Morra combination
A friend of mine had the following position quite recently in a team match: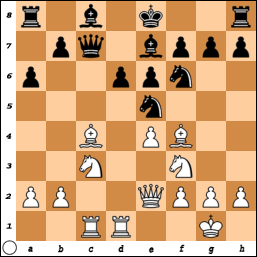 After a long think he played 12.Bb5+, got a worse position and eventually managed to trick his opponent and win. As I walked by the board I saw a simple combination. Is this because I am a great tactician? Probably not. I am the typesetter at Quality Chess and therefore typeset Marc Esserman's book, Mayhem in the Morra, and probably just recognised the tactic subconsciously.
White wins with either 12.Nxe5 or 12.Bxe5, with the same moves to follow after 12…dxe5: 13.Nb5! Qb8 14.Nc7+! and White wins either the queen or the exchange as well as ruining Black's coordination. In both cases White wins.
Looking at the database I also noticed that someone played 12.Nd5 here and won the game after 12…Nxd5? was played. Instead 12…exd5! 13.Bb5+ Nc6! would favour Black.
By the way, we won the team match 5.5-0.5. I obviously made the only draw…