Busy busy busy
I am sorry that I do not have the time to write a proper blog post today. I have been working till 2am quite a number of nights in a row in order for our books to get sent to the printer before Christmas. Sadly this does not mean early January publication, as they are shut for a few weeks.
The following four books will most likely be released on the 4th of February:
Negi: 1.e4 vs. the Sicilian 1 (360 pages)
Flores Rios: Chess Structures – A Grandmaster Guide (464 pages)
Kotronias: Mar Del Plata 1 (320 pages)
Kotronias: Mar Del Plata 2 (300+ pages)
Furthermore we are preparing reprints of Playing the French, Grandmaster Preparation – Calculation (more about this next Monday) and of course the 10th anniversary hardback edition of Learn from the Legends.
Right now I am typesetting the first Kotronias book, which will be proof read from tomorrow morning. There is really some incredible chess in this book (which deals exclusively with the 9.Ne1 main line KID). One position I looked at a few moments ago was this one, arising after 25.Rxd7: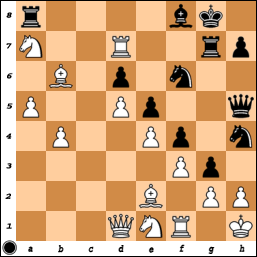 Here I will skip the details, but just give you the main line Vassilios has analysed:
25…Rg6!! 26.Bg1! Nxd7 27.Bb5 Rxa7 28.Qc2! Rb7 29.Bc6!? Rc7! 30.h3! Nxg2! 31.Qxg2 Qh6 32.Bb6 Nxb6 33.axb6 Rc8 34.b7 Rb8 35.Nd3 Rg5 36.Ra1 Rh5 37.Bd7! Rxb7 38.Be6† Kg7
Despite having played optimum moves in the last sequence, White is still struggling badly.