A Question of Technique?
In the second round of the Tashkent Grand Prix there were two really important games as far as I am concerned. In two games did very young players (20 and 22) get a big advantage and in both of them they blew it.
In the first game Anish Giri got a big advantage with White after quite a cunning novelty. The interesting moment of the game was probably this one: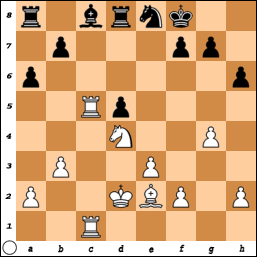 White has a serious advantage from the opening, but he needs to find a deep plan in order to make something of it. Here Giri's main strengths were not rightly suited for the task. Giri has great opening preparation and plays quite fast, putting his opponent's under a lot of psychological and practical pressure. It seems to me that he is especially venomous with faster time controls.
But here he had to think deeply and find a plan. It is actually quite an interesting task and I put it forward to you guys to formulate a plan here that will create an additional weakness. It is by no means easy. I have an idea, but I am not sure it is right at all.
Move by move White's advantage decreased, until it was negligible and a draw was agreed.
Giri – Mamedyarov, Tashkent 2014
1.d4 d5 2.c4 c6 3.Nf3 Nf6 4.Nc3 e6 5.e3 Nbd7 6.Qc2 a6 7.b3 Bd6 8.Bb2 0–0 9.Be2 e5 10.Nxd5 Nxd5 11.cxd5 Qa5+ 12.Bc3 Bb4 13.Bxb4 Qxb4+ 14.Qd2 Qxd2+ 15.Kxd2 exd4 16.Nxd4 cxd5 17.Rhc1 Nf6 18.Rc7 Rd8 19.Rac1 Ne8 20.R7c5 Kf8 21.g4 h6 22.f3 Ke7 23.h3 Kd6 24.f4 Bd7 25.Bf3 Nf6 26.Nf5+ Bxf5 27.gxf5 Rd7 28.Kd3 Re8 29.Rc8 Rxc8 30.Rxc8 Rc7 31.Rb8 Kc5 32.a3 a5 33.Rf8 Kd6 34.Ra8 Rc5 35.Rf8 Rc7 36.Ra8 ½–½
In the other game Caruana won the queen quite early on in the game with a great tactic: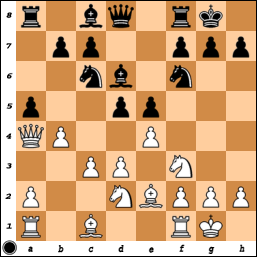 9…b5! 10.Qxb5 axb4 11.exd5 Na5 12.cxb4 Bd7 13.Qxa5 Rxa5 14.bxa5 Nxd5 15.Ne4 Qa8
Black is technically winning here, but in practice it proved not to be so easy. Jobava managed to set up a fragile fortress later on: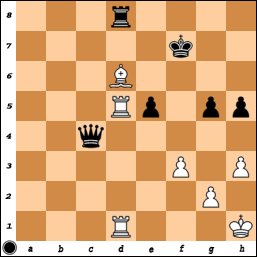 Caruana correctly gave up a pawn with 38…g4! in order to get a passed pawn, but later on he missed his chance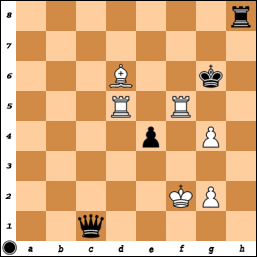 With 44…Ra8? he allowed his opponent to get counterplay and hold the game. But the winning lines were more sinuous than could have been expected, with an aberrant pawn ending at the end:
44…Rh1!
with the threat of mate on e1 would have won the game.
45.Rg5+
45.Bb4 Qg1+ 46.Ke2 Qxg2+ 47.Ke3 Qxg4 wins for Black, as after 48.Rg5+ Qxg5+ 49.Rxg5+ Kxg5 50.Kxe4 Black conveniently has 50…Rh4+.
45…Qxg5 46.Rxg5+ Kxg5
At this point White has two serious defensive tries. To defend the g-pawn and to attack the e-pawn.
a) 47.Kg3 Rf1!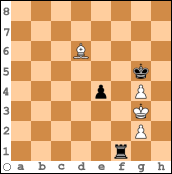 The king is cut off and Black can slowly improve his position. The white fortress falls as such types often do – to zugzwang.
48.Bc5 Kf6 49.Bd4+ Ke6 50.Be3 Ke5 51.Bb6 Rb1 52.Be3 Rb3 53.Kf2 Rb2+ 54.Kg3 Rc2!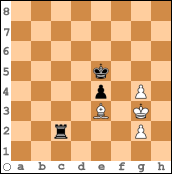 Zugzwang! White has to push the pawn, as 55.Bb6 is met with 55…Rc3+ 56.Kf2 Kf4 and Black is on his way to winning the game. And after 55.g5 comes 55…Kf5 56.g6 Rc6! and Black eventually wins.
b) 47.Ke3 Re1+ 48.Kd2 Ra1 49.Ke3 Ra4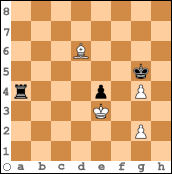 Black has a winning position here, but it is far more concrete than you would have guessed in advance. The critical line (though not the line where White loses in most moves) that Black would have had to have under control (or find was there by luck) goes like this:
50.Bc5 Kxg4 51.Bd4
51…Rxd4!
51…Kf5 52.g4+ and White draws.
52.Kxd4 Kf4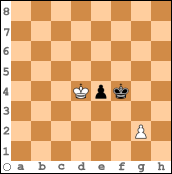 To me it is not obvious at first glance that Black will prevail, but he does, on account of mutual zugzwang.
53.Kc4 Ke3 54.g4 Kf4! and Black wins.
A truly difficult endgame and not something anyone in their right mind can blame Caruana for not winning. I am sure he is kicking himself, but what can you do? Chess is really difficult and Jobava's games are always like this. He is so frequently lost (because of his poor openings and general coffee-house style) that he has developed a sixth sense with regards to counterplay.
Jobava – Caruana, Tashkent 10.2014
1.e4 e5 2.Nf3 Nc6 3.Be2 Nf6 4.d3 d5 5.Nbd2 Bc5 6.c3 a5 7.Qa4 0–0 8.b4 Bd6 9.0–0 b5 10.Qxb5 axb4 11.exd5 Na5 12.cxb4 Bd7 13.Qxa5 Rxa5 14.bxa5 Nxd5 15.Ne4 Qa8 16.d4 exd4 17.Nxd6 cxd6 18.Nxd4 Qxa5 19.Bf3 Rb8 20.a4 Qc3 21.Ba3 Qxd4 22.Rad1 Qxa4 23.Bxd6 Rd8 24.Bxd5 Bg4 25.f3 Be6 26.Bxe6 fxe6 27.Rd2 e5 28.Rfd1 Qb5 29.h3 Kf7 30.Rd5 Qe2 31.Kh2 Qc4 32.Kh1 h5 33.Kg1 Qb3 34.R1d3 Qb6+ 35.Kh1 Qc6 36.Rd1 g5 37.R5d3 Qc4 38.Rd5 g4 39.fxg4 hxg4 40.hxg4 e4 41.Rf5+ Kg6 42.Rdd5 Rh8+ 43.Kg1 Qc1+ 44.Kf2 Ra8 45.Bc5 Ra6 46.Kg3 Qe1+ 47.Kh3 Qc3+ 48.Kh2 Qh8+ 49.Rh5 Qb8+ 50.Kh3 Qf4 51.Rdf5 Qc1 52.Bf8 Re6 53.Kh2 Qc7+ 54.g3 Qc2+ 55.Kh3 Qc1 56.Kg2 Re8 57.Rh6+ Qxh6 58.Bxh6 Kxh6 59.Kf2 e3+ ½–½
You can find both the games in the PGN file if you want to check the variations. But I recommend that you have a look at Giri's game first, as I have put my own suggested line in there. It is clearly up for debate, I just felt that it would be interesting to put a suggestion for a way to play the position forward. Hopefully some of you guys will do the same!
This article is by no means meant as criticism of the players. Chess is very, very difficult and has many dimensions. No one can master them all. I just found it interesting that two young players played the endings less than perfectly (based on the old adage that endings and age go together). This does not mean that I find any general truth in this, only that it was the case on this occasion…