Ankit Rajpara, a young Indian grandmaster, won surprisingly against Arkadij Naiditsch in the first round of the big open in Qatar.
Early in the opening he came up with a funny manoeuvre in order to open the h-file. Later on he sacrificed a piece in order to penetrate in the self-same h-file and win the game.
Naiditsch (2719) – Rajpara (2494)
Doha 26.11.2014
1.e4 c6 2.d4 d5 3.e5 Bf5 4.Nf3 e6 5.Be2 Ne7 6.0–0 Bg6 7.Nbd2 Nf5 8.c4 Be7 9.g4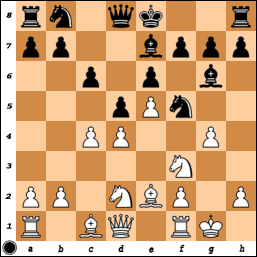 9…Nh6 10.h3 Ng8 11.Ne1 h5 12.Ng2 hxg4 13.hxg4 dxc4 14.Nxc4 Be4 15.f3 Bd5 16.Nce3 c5 17.Nf4 Bc6 18.d5 exd5 19.Nfxd5 Bh4 20.Kg2 Bg3!?