It's been a while since I finished writing Chess Structures, but I like the topic so much that I keep coming back to it – I know how much it improved my understanding of chess. I follow games on Chessbomb pretty much daily and I really enjoy it when I see a nice 'structure-concept' being applied. Often these games reproduce ideas shown in the book almost identically, while sometimes there are small (yet very important!) differences. So I thought, why not start a blog in which I will, once in a while, post a game which builds upon the ideas I shared with the readers of my book. Since the hardest point of starting a blog is finding any readers at all, John offered his help, suggesting I post a couple of guest blogs here. The permanent location of my blog will be chess-structures.com, though it will take me about 4-5 days to set it up properly, since I am a complete beginner as far as websites go.
Now let's get started with some chess. As you may have realized, almost every game in my book was decisive (that is, not a draw) since drawn games (especially agreed draws) are like an unfinished story, and people just don't like to read stories without an ending… Anyway, the only exception to this rule was Onischuk – Dominguez from the World Cup of 2013. This game was a Carlsbad structure (Chapter 5) which I thought was very instructive, as it shows how Black might completely neutralize White's queenside plans. A few days ago, as I was following the Women's World Championship in Sochi, I found a great example which pretty much takes off where Dominguez left off, and brings home the full point. The contenders: young star Guo Qi from China was White against World finalist Natalia Pogonina. Let's see the game:
1.d4 Nf6 2.Nf3 d5 3.c4 e6 4.Nc3 Be7 5.cxd5 exd5 6.Bg5 c6 7.Qc2 Nbd7 8.e3 Nh5 9.Bxe7 Qxe7 10.Be2 Nhf6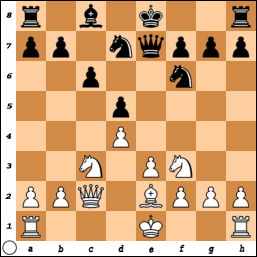 11.Nd2?!
White deviates from theory, possibly to prevent …Ne4. This is a little imprecise since quickly playing b2-b4-b5 should be the priority.
Normal was 11.0–0 to follow up with Rab1, b2-b4-b5, and if 11…Ne4 12.Nxe4 dxe4 13.Nd2 Nf6 14.Rab1!? we have transposed to Chapter 20, the French Type II (with colours reversed) where White's prospects are good, since the break b4-b5 is easy to carry out, and Black lacks material (and moves) to create serious kingside threats.
11…Nb6 12.0–0 0–0 13.Bd3
If 13.Rab1 then 13…Bg4! 14.Bd3 Bh5 is similar to the game.
13…Bg4 14.Rab1 Bh5!
Black is aiming to trade light-squared bishops, which is a good idea.
15.b4 a6
A standard reply, to trade off a-pawns, getting rid of a potential weakness.
If 15…Bg6 then 16.Bxg6 hxg6 17.b5!? would typically create problems for Black, since both the a7- and c6-pawns can become weaknesses, however White's play has been imprecise, and after 17…Rfc8 18.bxc6 Rxc6! Black has good counterplay (but not 18…bxc6? when White is a little better).
16.Na4
After 16.a4 Bg6 17.Bxg6 hxg6 the standard 18.b5?! is met strongly by 18…cxb5 19.axb5 a5! with an edge. Black has a passed pawn, making White's entire enterprise a failure.
16…Nxa4 17.Qxa4 Bg6 18.Bxg6 hxg6 19.Qc2
My favourite moment in the game; Pogonina is doing well, but now how should she stop a4 and b4-b5?
19…Ne8! 20.a4 Nd6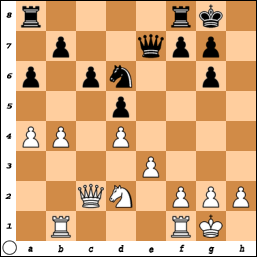 Black is slightly better.
The position is almost identical to the game Onischuk – Dominguez (annotated in Chapter 5). White's queenside play is no longer dangerous. The big difference between this game and the one in the book is that here Black has a half-open h-file, creating better prospects for kingside play.